05/18/2013 Tips for Blogging
Tips for creating a blog.

There are no hard and fast rules on how to blog. Having said that, bloggers will likely increase their exposure by following some simple blog guidelines.

Tips for Blogging
05/06/2013 Why Do People Unsubscribe?
Whether you do email marketing, publish an RSS feed, or both, you will inevitably have customers that choose to unsubscribe from your communications. However, you may be able to limit the number of customers who do so. According to a recent report by ExactTarget, there are a variety of reasons why a person may unsubscribe.

Why Do People Unsubscribe?
04/29/2013 RSS Filter
RSSFilter is a PHP script that filters the contents of an RSS feed. The filters can be defined by the publisher so that the resulting RSS feed contains only the information they want. RSSFilter uses rules to filter the items that are included from a feed in the resulting feed.

RSS Filter
04/26/2013 How to Protect Digital Content
Just like writers, photographers, and other creative artists have learned, protecting content is one of the primary struggles that webmasters face on a daily basis. It takes time and talent to develop quality content, and there are few things more frustrating than to discover that your content has been poached by another website.

There are a number of actions that webmasters can take to proactively protect their work from being used without authorization by people on the web who are simply looking to cut corners. Take the following steps to proactively guard your content...

How to Protect Digital Content
04/25/2013 Blog Promotion Tips
Blog Promotion Tips

There are a wide variety of things you can do in regard to blog promotion. Here are just a few...

Blog Promotion Tips
04/24/2013 Pros and Cons to Being Self-Employed
Many employees dream of someday being an employer rather than an employee. There is a lot to be said for being self-employed, but it is not always as perfect and wonderful as it may seem. In addition to benefits, there are also some distinct downsides of being self-employed. Let's take a close look at the pros and cons of being self-employed....

Pros and Cons to Being Self-Employed
04/23/2013 Technical Diagnosis Cartoon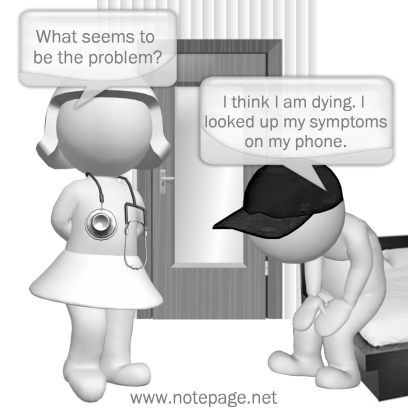 Technical Diagnosis Cartoon
04/19/2013 Dangers in Blogging
I have heard many a blogger say that blogging fills a need. While blogging provides a humanizing effect on news and journaling, it also opens a window into personal lives. The details shared in blogs were once only available to a select group of friends, and while blogging has become common place, it has risks that should not be ignored.

Cyberstalking is a new phenomenon that allows anonymous online stalkers to prowl for victims. Online bloggers traditionally provide personal details about their lives. As a result, many women that blog are becoming victims. Most people are concerned about children on the Internet and set up rigorous posting guidelines for children, adolescents, and teenagers, but few adults heed the warnings and often do not consider that they too can be targeted.

Females, in particular, should be cautious when circumnavigating the blogosphere. If you are a blogger or contemplating an online journal, consider these tips to protecting your identity:

complete article
04/17/2013 Design Tools
Creating an interesting and colorful color palette can be a chore, even for the most experienced designers. We have compiled a list of color design tools that can be very useful for web artisans...

Design Tools
04/16/2013 Huge List of Mime Types
Huge list of Mime Types.
04/08/2013 Computer Scolding Cartoon



Computer Scolding Cartoon

04/02/2013 How Realtors are Using RSS Feeds
Learn how realtors are using RSS Feeds to enhance their business.
04/01/2013 iTunes Namespace
Learn all about the Apple iTunes Namespace
03/24/2013 I Work on The Internet Cartoon
I Work on the Internet Cartoon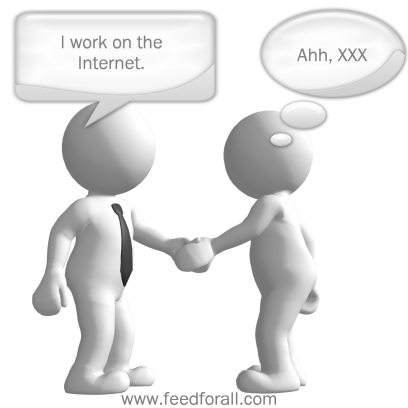 03/14/2013 SQL2RSS


The SQL2RSS script allows you to easily create rss feeds from SQL databases. The script currently supports the conversion of MySQL databases to RSS feeds.

When using SQL2RSS the publisher has complete control over the content in the resulting RSS feed. Administrators and publishers control the database query which allows them the flexibility to determine what data is inserted into the RSS feeds from the database.
03/11/2013 Read the Latest RSS News From FeedForAll
Read the latest RSS feed and pocasting newsletter from FeedForAll. Includes information on: FeedForAll and RSS Scripts Updates, Podcasting Humor and much, much more!
03/04/2013 Why Will iTunes Not Accept My Podcast?


iTunes Cartoon Humor
02/28/2013 RSS Scripts Update
The RSS Scripts in the RSS Scripts Directory have been updated for better compatibility with PHP version 5.3.
02/27/2013 Minor FeedForAll Update
A new version of FeedForAll is available that improves compatibility with newer operating systems.
02/25/2013 Free Tools to Monitor Your Brand
There are a number of things that you can do to monitor your online brand, as well as monitoring the brand of a competitor. Being aware of what is said, and when it is being said, will allow you to react in a timely fashion.

Free Tools to Monitor Your Brand
02/04/2013 Techie Humor
Funny Techie Humor

01/29/2013 Podcasting Knowledgebase
Common questions about podcasting, itunes, namespace extensions and videocasting.

Podcasting Knowledgebase
01/22/2013 Webmaster Tips
According to Matt Cutts, there are over 100 factors that affect search engine ranking. For those of you who don't know, Matt is a Google guy guru, he is employed by Google but writes an independent blog and shares information related to Google and search engine optimization. Unfortunately, of those 100 items that account for search engine ranking, there are only a few that webmasters can actually control.

Webmsater Tips
01/21/2013 The Rewards of Podcasting
Getting started with podcasting is a relatively inexpensive venture. The equipment and software required for podcasting is inexpensive for a business contemplating podcasting as a new marketing and communication adventure.

Rewards of Podcasting
01/15/2013 What is Hot and What is Not in 2013
Each year we scratch our heads and come up with trends or technology that we think will be hot in the coming year. Checkout our list of What is Hot and What is Not in 2013.
01/14/2013 FeedForDev
FeedForDev for developers, integrate RSS feeds into your applications and communicate with customers from within your program!
01/02/2013 Follow FeedForAll on Google+
Follow FeedForAll on Google Plus and other social networks.
12/18/2012 Podcast Sermons
The Internet has made spreading faith significantly easier. In the past, community residents were limited to the churches, temples and houses of worships that were available within driving distances. Coordinating schedules with sermons could be challenging for busy families.

The Internet has opened the doors to a diverse congregation that exists beyond the traditional borders that communities have become accustom to. Using technology as a communication medium has not been lost on spiritual leaders and many have embraced the Internet as a medium to spread their faith. It is rare to find a house of worship that does not have a website or Internet presense. Expanding upon this theme, parishes looked to podcasting to further expanded the reach of their spiritual counselors and ministers. Many preachers record homilies, hymns, services, sermons or gospel teachings, for parishioners and interested listeners.

Podcast Sermons
12/10/2012 Personal RSS Feed Namespaces
The RSS specification allows you to create and use your own custom elements tags in any RSS feed, by declaring your own namespace. Doing this is 100% in line with the RSS specification and the feed will validate. However, you should have a specific and well-planned reason to do so. No RSS readers, or other RSS processing applications will be able to use your custom info for any purpose.

complete article
12/05/2012 Read the Latest News from FeedForAll
Read the latest RSS feed and pocasting newsletter from FeedForAll. Includes information on: protecting content, developing a brand, website spidering and much, much more!

11/12/2012 Attention Getting Blog Posts
Blogs are now a dime a dozen, and bloggers need to make their blog posts stand out. Developing a blog following is not as easy as it once was. Learn how to write blog posts that attract readers and retain their attention. Follow these guidelines to cultivate readers...

Attention Getting Blog Posts
11/06/2012 FeedForAll Gets Social
FeedForAll gets social! Consider following and liking FeedForAll on the following social media channels:

FeedForAll on Twitter @FeedForAll

FeedForAll on Facebook

FeedForAll on LinkedIn

11/05/2012 RSS Education Center
Learn the intricacies of RSS feeds and podasting in the RSS Learning Center.


10/17/2012 RSS Filter
RSSFilter is a PHP script that filters the contents of an RSS feed. The filters can be defined by the publisher so that the resulting RSS feed contains only the information they want. RSSFilter uses rules to filter the items that are included from a feed in the resulting feed.



RSS Filter